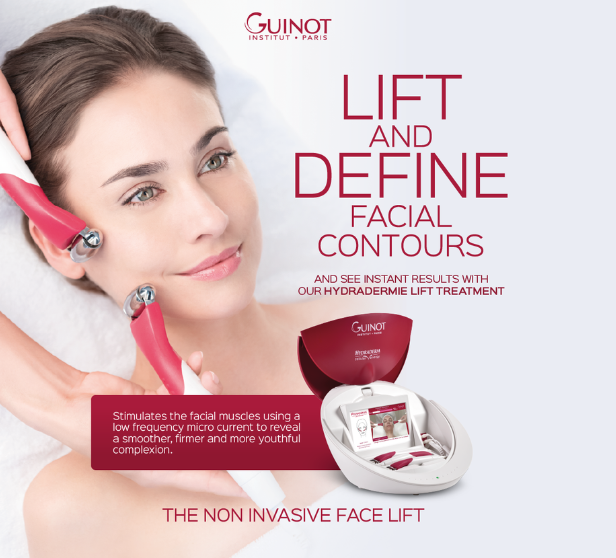 The first and only GUINOT spa in California with two HYDRADERMIE VITAL ENERGY treatment machines is our commitment to you and Your Youth Recovery, one of the many reasons why clients travel from far and wide to our Guinot spa. What an honour it is when clients fly in from Los Angeles, and beyond California for a touch of beauty therapy here with us.
Hydradermie LIFT Treatment is an integral part of Your Youth Recovery Program.
The "Instant Lifting" treatment stimulation.
Hydradermie Lift lifts the facial features by stimulating the facial muscles. In just a few minutes the face appears younger and visibly lifted (micro-current technology).
After the first treatment, you will see the visible results of lifted facial features.
The skin has regained its tone and surface wrinkles have faded.
This method is like "body building" for the face.

Guinot Beauty Therapist Sarah's expert advice:
Hydradermie Lift is recommended as an initial series of six treatments over six consecutive weeks to improve skin tone and naturally lift the facial features.
For optimum Youth Recovery results the Guinot Facial Hydradermie Age Logic LIFT is recommended every 4 weeks, with a booster mini LIFT treatment every 2 weeks.
Why Guinot?

UNIQUE BEAUTY CARE EXPERTISE
For more than 40 years, GUINOT's mission has been to make women more beautiful using exclusive and innovative skin care methods. Advanced Beauty Care in Burlingame, California is an exclusive GUINOT spa where you come together with an expert beauty therapists trained by GUINOT, for "tailored" treatment skincare programmes. Established as the Guinot spa in 1999 Advanced Beauty Care is a sanctuary focused on helping you reveal your best skin yet. Today, the Guinot spa is the professional beauty market leader, you are invited to discover more, for the first time or you have missed professional skincare products. Beauty care provided in in a skincare spa remains the quickest way to escape from your daily life and to fulfil beauty goals, whether it be for acne, deep cleansing, moisturising, brightening, radiance, firming or youth recovery.
Your Youth Recovery Program by Guinot Burlingame.
A focus on prevention treatments is the modern approach to skincare and is in high demand for those seeking a youthful appearance. The Youth Recovery Program was created to help address concerns of ageing via Guinot facial therapies and skincare prescriptions.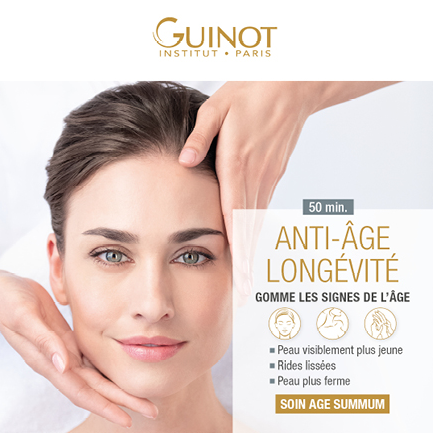 YOUTHFUL SKINCARE
NEW LIFE FOR YOUR SKIN
Advances in cell biology enable Guinot skincare products to slow the effects of skin ageing. Today, using suitable beauty care, it's possible to recover youthful skin.
RESULTS. INTEGRITY. EXPERIENCE.